Yuhuan CNC was awarded the "Integrity Management Enterprise" in Changsha City in 2021
---
Recently, the office of Changsha Social Credit System Construction Leading Group issued the "Notice on Commending 2021 (Second Batch) "Integrity Star" individuals and "Integrity Management Enterprises" and other units. The excellent results obtained were commended by the government and awarded the "Integrity Management Enterprise" of Changsha City in 2021.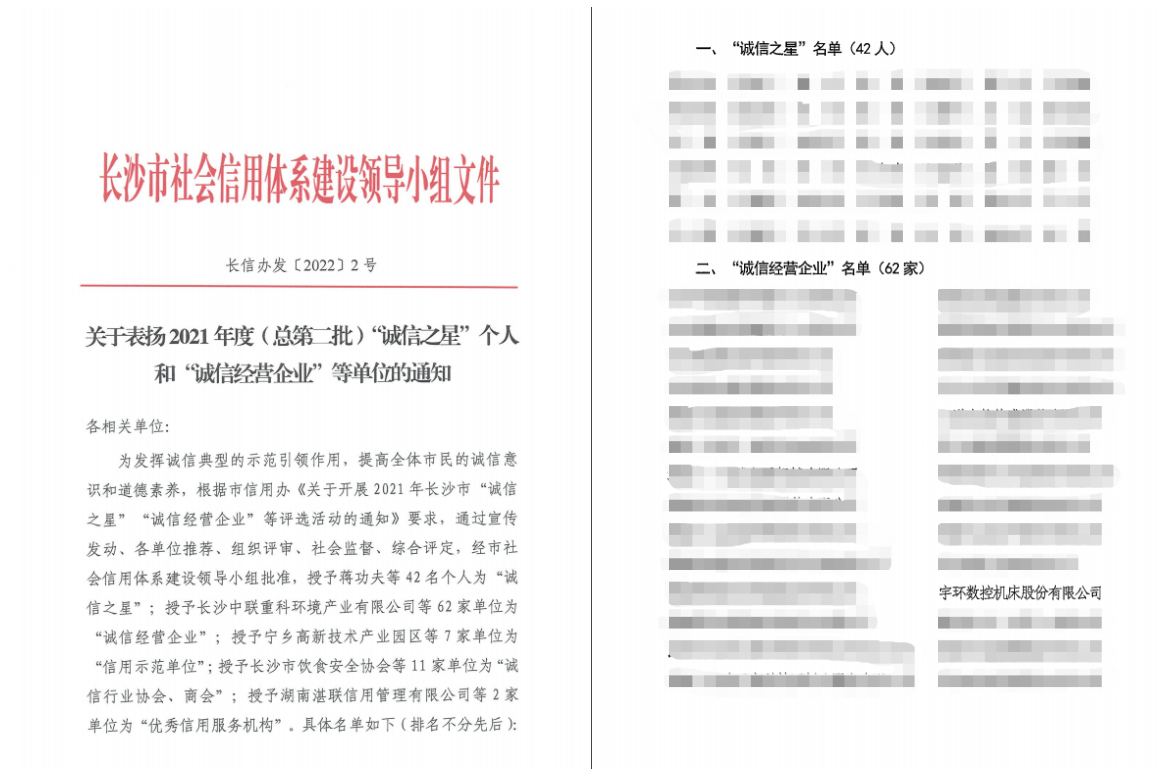 It is understood that the selection activities of "Integrity Star" and "Integrity Management Enterprise" are a powerful measure to comprehensively promote the construction of Changsha's social credit system, vigorously promote the socialist core values, and further strengthen the construction of social integrity.
Over the years, Yuhuan CNC has attached great importance to the construction of enterprise integrity and established a sound enterprise management system. The company has passed the four management system certifications of quality, environment, energy, occupational health and safety; it avoids the legal, credit and other aspects of the enterprise through the standardization of management. item risk. In recent years, the company has been rated as a credit AAA-level enterprise in Hunan Province, a tax-paying credit-level unit, a key propaganda unit for the "Made in Hunan Trustworthy" Quality Miles Campaign, a housing provident fund "integrity deposit enterprise", and a quality credit A-level enterprise in Hunan Province. and other honorary titles. At the same time, the company actively fulfills its social responsibilities and responsibilities as a listed company, is enthusiastic about social public welfare undertakings, donates materials and funds for flood relief and disaster relief, develops and donates an automatic mask machine production line for epidemic prevention and control, and sends condolences to outstanding students in poverty-stricken areas. and school supplies, granting scholarships to the children of employees who have entered colleges and universities, etc., to create a brand of corporate integrity with selfless love and practical actions.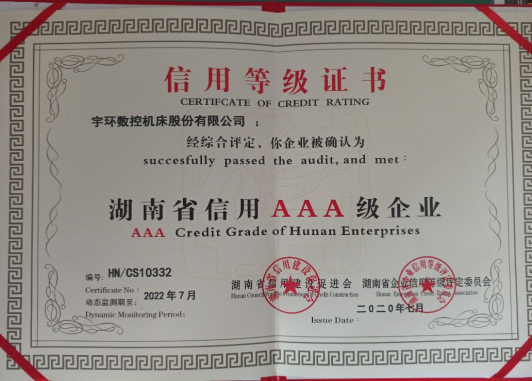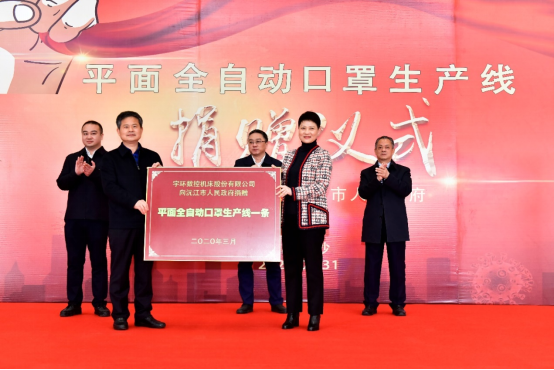 As a leading enterprise in Hunan's high-end CNC machine tool equipment industry, Yuhuan CNC drives development with technological innovation, promotes industry technological progress and intelligent manufacturing transformation and upgrading, and a number of products have reached the international advanced and leading level, and is committed to solving high-end CNC machine tools. Import substitution and stuck neck technical challenge. The company will cherish the honor, make persistent efforts in the future production and operation and fulfill its social responsibilities, establish an enterprise with integrity, put quality first, and continuously improve the company's integrity management level to implement the strategy of "three highs and four new" and "strong provincial capital", Contribute more power!
---